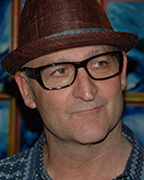 Michael Katleman made his directorial debut in 1990 on the critically acclaimed CHINA BEACH. From there, he quickly established himself by directing iconic series including ER, NORTHERN EXPOSURE, DARK ANGEL, THE X-FILES and SMALLVILLE.

Michael has become extremely sought after as a pilot director -- recently finishing work on KING & MAXWELL for TNT -- marking the fourth pilot helmed by Michael picked up to series.

In 2002, Steven Spielberg recruited Michael to direct the 2-hour finale of his Emmy award winning sic-fi mini series TAKEN. From there, Michael began a new phase of his career as a "producing director" working on shows such as MERCY POINT, GILMORE GIRLS, TRU CALLING, REUNION, POINT PLEASANT and BIRDS OF PREY.

In 2006, Michael directed his first feature film for Disney and Hollywood Pictures. PRIMEVAL was a visual effects driven action adventure film shot entirely on location in South Africa.

Since directing his first feature, Michael has established himself as a "showrunning director" helming BIG SHOTS, LIFE ON MARS, EASTWICK, MY GENERATION and MEMPHIS BEAT.

Michael is currently Executive Producer/ Director on the upcoming CBS Summer series ZOO, based on James Patterson's bestselling novel.